Our comprehensive cargo service is designed to streamline your shipping needs from the UK to Pakistan. In today's interconnected world, shipping goods overseas can be a crucial part of our personal and professional lives. Whether you need to send a parcel to a loved one, deliver time-sensitive documents, or transport commercial cargo, having a reliable and efficient shipping solution is paramount.
At Cargo To Pakistan our door-to-door air and sea shipping service is specifically designed to meet these needs. Combining our wealth of experience in international logistics with a deep understanding of the UK and Pakistani markets, we have developed a service that is both effective and easy to use.
We take pride in offering both air and sea freight options, allowing you to choose the best fit for your shipping requirements. If speed is your priority, our air cargo service will ensure your parcels reach their destination in the shortest possible time. For larger or bulk shipments, our sea freight service provides a cost-effective solution without compromising on reliability or security.
For Booking Call us Now!
0203 325 2606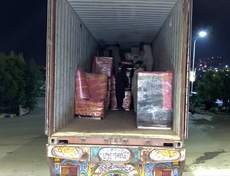 With us, you can avoid the complexities and stress often associated with international shipping. We handle everything from pickup at your designated location in the UK, to dealing with customs documentation, through to delivery at your specified address in Pakistan. We work diligently to ensure your cargo is handled with utmost care throughout its journey, and with our real-time tracking feature, you can stay informed about your shipment's status at all times.
Our dedication to customer satisfaction, coupled with our commitment to providing a seamless shipping experience, makes us the ideal choice for your cargo shipping needs from the UK to Pakistan. Contact at Cargo To Pakistan today to find out how we can make your international shipping experience a hassle-free one.
Air Cargo from UK to Pakistan - Swift and Efficient
When time is of the essence, our air cargo service to Pakistan is the ideal choice. With swift delivery times, your parcels and cargo will reach their destination in Pakistan in no time. Whether you have urgent documents, time-sensitive goods, or personal items, our air cargo service ensures timely delivery and peace of mind.
Sea Cargo from UK to Pakistan - Cost-Effective and Versatile
For larger shipments and bulk cargo to Pakistan from UK, our sea cargo service offers a cost-effective solution. Enjoy competitive rates without compromising on the quality of service. Our sea shipping option to Pakistan accommodates a wide range of goods, making it the perfect choice for commercial cargo and large consignments.
Comprehensive Door-to-Door Cargo Service
We take care of the entire cargo shipping process from start to finish. Our comprehensive service includes:
Collection from Anywhere in the UK: We will pick up your cargo from any location in the UK, saving you time and effort.
Customs Handling: Our experienced team handles all the necessary customs documentation and procedures, ensuring a smooth transit through customs.
Secure Packaging: Your cargo is handled with utmost care and securely packaged to ensure safe transportation.
Real-time Tracking: Stay updated with the status of your shipment through our real-time tracking feature.
Delivery to Any Destination in Pakistan: Your cargo will be delivered right to your specified address in Pakistan, making it a truly door-to-door service.
Trusted Cargo Partners in Pakistan
We have established a network of reliable cargo partners in Pakistan to ensure seamless coordination and a trustworthy delivery process. Our team's extensive experience in handling cargo shipments to Pakistan guarantees a hassle-free shipping experience.
Experience the convenience and reliability of our Door-to-Door Air and Sea Cargo service from the UK to Pakistan. Send your parcels and cargo with confidence, knowing that we are here to take care of your shipping needs.
Contact us today to get started and discover a seamless cargo service to Pakistan. Trust Cargo To Pakistan to handle your cargo - your satisfaction is our priority!